5 Minute Vacations
This is sparkly fresh news, with a new book project in the works. Not quite fiction and not quite non fiction, this work is a series of tranquil scenes to refresh your mind and spirit.
With thanks to Rhetoric Askew as publishers. Read a sample and bliss out!
Druid's Portal Series
The second in the series is well underway, with the draft being reviewed. Major thanks to my lovely editor Sharon, who makes the books so much better – and encourages along the way.
I did a FutureLearn online course on Hadrian's Wall and another on archaeology, so my research is progressing to fill in details.
A book trailer for Druids Portal: Druids Portal trailer
Druid's Portal – now available in paperback- Amazon, Booktopia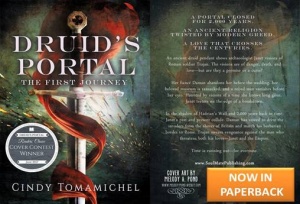 Check out the first chapter – click here
Anthologies
I have a short scifi story in Quantum Soul, called "When Words Are Not Enough." Some talented scifi authors in this collection.
There is another story in an upcoming anthology – details are still a bit secret – but it is an alternate history story. Stay tuned!