5 Minute Vacations – now on a special preorder price of 99c – click here to order now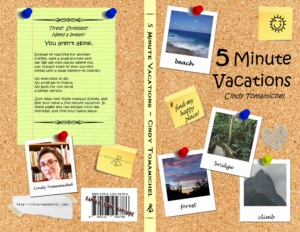 5 Minute Vacations – take a break from the everyday.
Take a step away from what stresses you, what gives you pain or stress and replace it with a moment to cherish.
Instead of another stimulant to keep up the pace, step back and give to yourself a moment of peace, five minutes of calm.
Give your mind and soul a vacation instead.
Soon avaliable in paperback and audio.
Make sure you pop in to the facebook launch party – lots of authors to check out, freebies and fun! Click here
Follow me on Instagram for tranquil photos of nature and book news
and a sneak peak at what to expect…
Lunch 
You are sitting down to lunch with your best friends, under an old wooden trellis in the dappled sun. Grape vines with their large veiny green leaves offer shade, their rough old bark trunks telling of years of buttressing the trellis. Jasmine tangles through, starry white flowers perfuming the air. It is pleasantly warm, and an occasional breeze through the lawn sprinkler system brings a cooling current.
This is a reunion to treasure, friends once all together now reunite from far distant places.  The happy smiles, the greeting kisses, the exclamations over children gained and weight lost pepper the air, punctuated by the clink of glasses. Burbling gently as a brook is the background laughter of children, another generation of friends finding soul mates, daring each other to run under the sprinklers, or sneak another slice of fairy bread. The table is covered in your brightest crockery, with wine and beer glasses, already only half full glow ruby red and frosty amber in the sun. Baskets of bread waft crusty warm smells towards you, accented by the acid tang of vinegar and oil dipping sauce. A couple of you prepared the food, stumbling over each other after a few glasses of wine, but favourite recipes falling into culinary delights enhanced with the joy of creating food for friends. Salads were tossed with offhand remarks, recent news seasoned the main course.
The compliments flow, and as the afternoon wears on, the laughter grows, old arguments are refreshed, and even older stories are re told. How many times have these stories been told? And with each telling a layer of memory and love is added until they have the glossy patina of a cherished antique, given and kept with love, passed on until the origin is lost. Full and content, you sit back in your chair, watching the happy faces of your friends, and realise that this is a perfect moment in time, a moment to cherish forever, shared with the people you love best. Life doesn't get any better than this…
(Lunch was first published in "Simple Pleasures of Friendship" by S. Seaton.)