I've written a few blogs on NaNo, but mostly from the perspective of a new writer. For them, Nano is a time of discovery, trepidation, and proving to themselves and the world that they are – or are not – a writer. For writers write, that's what it's all about. But what about if you are already published? How is Nano different?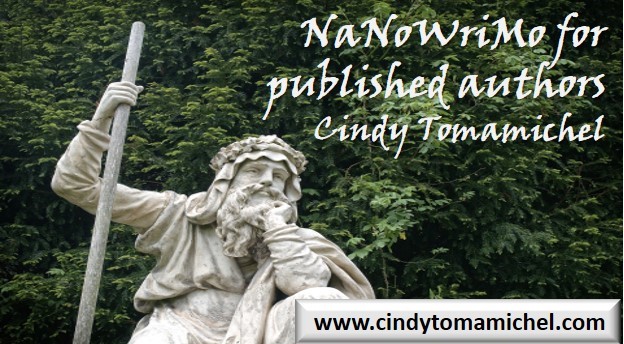 I think the main difference is that if you are published, writing is something you just do. If you are not writing, then you are thinking about it, planning, researching or involved in some of the endless tasks of marketing. The gloss is tarnished – you know now that writing is the easy part – publishing and then the tawdry and tedious marketing side is the reality.
An established author knows how they write. Plotting and pantsing is a bit second nature. How much research is enough. How to name your characters. Even the practical aspects of setting up a document, and having an organized filing system is done. All these things are part of the business of being a professional author.
The magic
We all get into writing because of it – the fire of creativity, the flare of an idea into a story, the birth of a character from an overheard remark. The absorption that takes over the mind during boring tasks – laundry becomes a chance to try dialogue, or speculate on the effect of two moons.
But somewhere, sometimes, in amongst the boring marketing, editing, formatting, and social media that can get lost. Writing that once fired our imagination becomes yet another job to squeeze into a already busy day. A month of writing is not new anymore, and the 1,667 daily word count may be a lot less than you currently write.
Nano is a chance to rekindle the magic. Indulge yourself in a new idea, new characters and even a new world. Join in the fun of having ninja pirates arrive in the middle of a romance, or employ the travelling shovel of death on an annoying character. The Nano forums are a chance to pay back, to help out with a bit of advice or encouragement.
Burnout
By the end of the year, many authors will have been writing all year, and are working on perhaps releasing something to interest holiday shoppers. A month of writing is the last thing you feel like doing.
And honestly, that's ok. From my own experience, writing up and through October on non Nano projects makes it very hard to summon enthusiasm for something new, especially if you are telling yourself this would be a great time to get a sequel done. You don't want to enter November tired, then force yourself to finish, and end up with something that gives you no joy at all. Don't pressure yourself to do Nano just because you have always done so. Things change when you are published, and you no doubt have deadlines you did not have in the past. Be gentle on yourself if it really feels too much.
But maybe there are a few things you can do to help bring the joy back into writing – for that is what Nano is. The spirit and joy of creating something in a month – the immersion in a new world. And remember – you are not allowed to edit in November, how good is that? (I don't like editing much!)
Last minute Preparation
Even now, in the last week of October, start giving yourself time to refresh. Stop any writing and get ready for something new. An idea that's been on the backburner, and yes if you like, a sequel with familiar characters, or something that came to you in a dream.
Get the housework done, cleaning and perhaps cooking ahead. Shop ahead, with some pantry staples of pasta, rice, your usual snacks and your caffeine of choice. Christmas shopping is also a good job to knock over now. Online charity gifts are a great timesaver!
Sort out social media. Get a scheduler (hootsuite, buffer, tweetdeck etc) and slot in as many as you can. Pre write blogs and newsletters and schedule them. If there are projects that have to be done in November, write out a detailed to do list. You may like to pin a post or tweet mentioning you are going to be a bit quieter.
Do some self care. Try and spend some time on yourself- walking, relaxing, cooking or something that helps untangle the brain.
But still, why?
Quite a few authors suffer from procrastination, even if this is camouflaged by activities such as editing, marketing etc. It is really easy to get wrapped up in social media and talk more about writing than you are doing.
Nano gives you a chance to have a good draft of a novel done. Blast it out, and you can spend the year doing those other jobs, and still have a novel written. If you do write rapidly and release often, you may scoff at the idea of writing so little during a month. And good for you, that's no easy pathway either. But for those that get distracted by other things, the chance to focus is a blessing.
If you are a bit down on your writing, it is also a chance to enjoy writing for it's own sake. Sometimes we get so focused on the next sale, or being involved in social media that the reason we started writing is forgotten.
Use Nano as a chance to rekindle the joy, to focus on a new world only you can create. Good luck, whatever your decision.
If you would like to read my other nano blogs, the links are here:
NaNo – the power and the glory
Enjoy this blog? Have a think about signing up via my website or catch them as they fly around the ether on twitter or facebook. They will stay where they are pinned on pinterest.
For those that have not read Druid's Portal yet, here is a link to the first chapter of  DruidsPortal and to the second in the series Druid's Portal: The Second Journey, and you can read a preview here.
Scifi more your thing? Try my short stories in the anthologies Quantum Soul and Tales from Alternate Earths 2. Or what about horror? Try Haunted, a free new horror anthology.
If you are keen to chat with other scifi peeps, then check out the Knights of the Scifi Roundtable facebook group and subscribe to their newsletter https://mailchi.mp/29fb30bca8e4/update-subscription
Short stories and poetry? Try the Rhetoric Askew anthologies: Mixed genre, Adventure or Romance
Tired from all that thinking? Try a 5 Minute Vacation! 5 Minute Vacation
I also have a newsletter for Multi Genre Readers, with a bunch of other talented authors contributing articles. Sign up here.And my own author newsletter, for book news, odd facts, recipes and random freebies. Sign up here.
NaNoWriMo for published authors