We live in a world full of acronyms, some sound mysterious and interesting and turn out to be accounting shorthand. Others – like Nano – are simple and elegant, yet hidden behind those four letters is a world of mystery, imagination and creative frenzy. Once you know what Nano stands for, your life will never be the same again. Every October, the whisper will rise nano – nano is coming. Will you answer the call?
Ok, I might be exaggerating a little bit. Nano is National Write a Novel in November, often NaNoWriMo, with participants being wrimos. Entry to this experience can be found at https://nanowrimo.org/  where you can login and explore.
So what is it? Basically, the idea is to sign up and write 1,667 words a day for the month of November – every day. This gives you 50,000 words in a month. There is no compulsion, no punishment for not finishing, and you write it on your own software.
To become a wrimo:
Register and pick a login name etc, then you can add your book details after October. From now on you are part of the Nano family, and receive pep talk emails, you can make buddies and join in the forums which are fantastic resources.
Prepare for your book writing frenzy in October. Plan, sleep, sharpen pencils – whatever works.
Write in November – each day you can update your word count, and there are fancy graphs and badges to help enhance your feelings of achievement.
Once you get to 50,000 words, you can validate. This involves copy-pasting the entire thing into the site (it will tell you where) and then you get a winners purple bar on your profile avatar, and winner goodies, such as discount scrivener.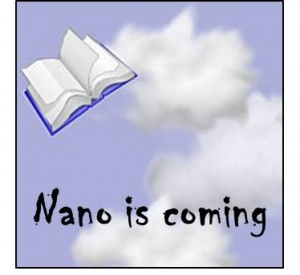 Other places to get involved in Nano (from website)
Use the hashtag #NaNoWriMo, and tag it in your tweet, Instagram photo, or Facebook post:
On Facebook: @NaNoWriMo
On Twitter: @NaNoWriMo
On Tumblr: @NaNoWriMo
On Instagram: @NaNoWriMo
On Pinterest: @NaNoWriMo
On YouTube: Use the hashtag #NaNoWriMo
Or search for groups on facebook.
But why would I do this to myself?
There are lots of people that are passionate about Nano, and probably just as many people that hate it as well. The pressure is not for everyone, and fast writing may not suit you or your style. So if it sounds terrible to you, well, most likely it will be. But many things in life can be surprising.
The first person who ate an avocado or an oyster was in a similar situation. Is it insane? Maybe. But in this pressure cooker of a month a writer can bathe in a creative sauna of expression, their characters will be with them constantly, and the words will flow like you always dreamed they would. Your inner editor and critic are locked up, and you are only allowed to create. The sheer intensity of this experience is something that makes the month worthwhile. Sure, there will be times when the words halt, when too much coffee gives you the jitters, but out of it – in only a month – you have a novel that did not exist in October.
Not everyone will win, I won't lie and say it is easy by any means. Some years I have squeezed the words out, getting right down to the last minute of day 30 to validate my 50,001 words and fallen into bed exhausted. Generally, only 1 out of every 6 participants will finish.
There would be many that criticise Nano, that something written that fast cannot be good. But people will criticise everything, so ignore them and the horse they rode in on! There are many success stories of published books from nano – the second in my Druid's Portal trilogy was a nano book. Nano is also a charity, with donations and merchandise profits going to help young writers.
So if you have a book in you – join in the Nano community and you give it the best chance to be written. The support is tremendous, and the forum camaraderie is amazing. Are you a writer of novels, or do you just like to talk about the novel you could write? Nano will give you the answer.
This is the first in a three part series on Nanowrimo, so stay tuned for the next blogs on "Prepping for the Nanopocalypse" and "Nano – the Power and the Glory".
Enjoy this blog? Have a think about signing up via my website or catch them as they fly around the ether on twitter or facebook. They will stay where they are pinned on pinterest.
In the meantime, click and have a read of Druid's Portal