I have written a few guest blogs on various writing related topics. Thanks for the opportunity to the sites involved. Feel free to share the links via your favourite social media.
A live radio interview with Red River Radio
Link: http://www.blogtalkradio.com/rrradio/2017/05/31/red-river-radio-whats-write-for-me-with-cindy-jm-and-maya
New Release on I Love Romance
Link: https://iloveromanceblog.wordpress.com/2017/05/23/new-release-feature-druids-portal-the-first-journey-by-cindy-tomamichel/
Author interview with Marie Lavender
Link: http://marielavender.blogspot.com/2017/05/interview-with-author-cindy-tomamichel.html
Happily Ever After – New release of Druid's Portal
Link: http://www.happilyeverafterthoughts.com/2017/05/interview-with-cindy-tomamichel-about.html
Foods the Romans brought to Britain – on English Historical Fiction Authors
Link: http://englishhistoryauthors.blogspot.com.au/2017/05/foods-romans-brought-to-britain.html?spref=fb
With bonus recipes from Apicius – raise your own snails, or make a brain and vegetable pudding!
Writing Groups – Create – Join – Benefit for Our Write Side
link : http://ourwriteside.com/writing-groups-create-join-benefit-cindy-tomamichel/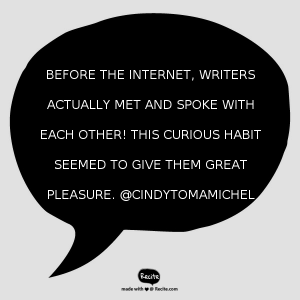 Before the internet, writers met and spoke! This curious habit gave great pleasure.
Click To Tweet