My newest venture into independent publishing is now available. Rocky Road to Love is a humorous contemporary romance set in outback Australia. There's rocks, dust, love, danger and the occasional possum!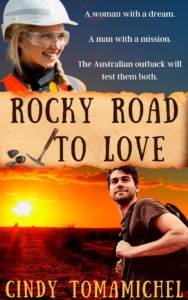 Always wondered what it would be like to be a geologist? Or how about an archaeologist? Say g'day to Sandra and Dan in this contemporary romance set in outback Australia that is full of laughter, science, danger, and the occasional possum.
Geologist Sandra knows it is out there—the El Dorado find that will save the future of her beloved town of Broken Hill. She has dedicated her life to finding it and will let nothing stand in her way to keep her promise to her prospector grandfather.
Archaeologist Dan knows how fragile the past can be. History can be erased by the ambitious. It is his job to protect it —no matter what the cost. Dan believes Sandra's exploration may threaten ancient sacred sites. His arrival in town disrupts all her plans.
As they explore the desert region together, their building attraction is hampered by mutual misunderstanding. Sandra's reputation and job are under threat, and her friend's lives are in danger. Dan must decide where his loyalties lie.
The harsh Australian desert will challenge them both, tear apart their hopes, test their love, and threaten their lives.
How will the present save the past and the future?
Grab your copy – on preorder and available Mar 31st.