I am pleased to be in a new anthology – this time a horror collection.
My story 'Waiting for Wednesdays' is a short one, and a twist on the ghost whisperer story. A not too scary story I wrote a fair while ago now, but it remains one of my favourites.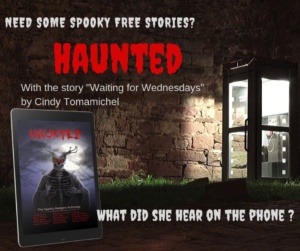 I share space with a number of indie authors, so I encourage everyone to check them out and see what else they have written.
Here is the description:
Join us on a pumpkin spiced, ghost-riddled, spooky journey amongst the imaginations of fifteen horrifyingly excellent indie-authors. Let them take you on a candle-lit journey through the minds of the depraved, departed and desperate as they treat you to their haunting tales. Lock the doors, close the curtains and don't turn off the light!
This book will be a permanently free edition, so grab a copy! As always, reviews are much appreciated, and help spread the word out about our writing. Download by clicking the image or here.
Enjoy this blog? Have a think about signing up via my website or catch them as they fly around the ether on twitter or facebook. They will stay where they are pinned on pinterest.
For those that have not read Druid's Portal yet, here is a link to the first chapter of  DruidsPortal and to the second in the series Druid's Portal: The Second Journey, and you can read a preview here.
Scifi more your thing? Try my short stories in the anthologies Quantum Soul and Tales from Alternate Earths 2. Or what about horror? Try Haunted, a free new horror anthology.
If you are keen to chat with other scifi peeps, then check out the Knights of the Scifi Roundtable facebook group and subscribe to their newsletter https://mailchi.mp/29fb30bca8e4/update-subscription
Short stories and poetry? Try the Rhetoric Askew anthologies: Mixed genre, Adventure or Romance
Tired from all that thinking? Try a 5 Minute Vacation! 5 Minute Vacation
I also have a newsletter for Multi Genre Readers, with a bunch of other talented authors contributing articles. Sign up here.
And my own author newsletter, for book news, odd facts, recipes and random freebies. Sign up here.
Horror Anthology: Haunted