Today I introduce E.M. Swift-Hook, a British writer from the North-East of England and author of the Fortune's Fools series of space opera books. Her first trilogy of the series, 'Transgressor' came out last year.
E.M. is also one of the founding members of the facebook group 'Scifi Roundtable' and has been instrumental in helping many authors polish their work and achieve their dreams.
What is your current project?
Thanks for asking me along today, Cindy. Right now I'm just bringing out the first book in my new Haruspex Trilogy, which is set mostly in a megatropolis dominated by criminal syndicates, called the 'City. The book is called 'Trust A Few' and it includes a couple of characters which will be familiar to anyone who has read Transgressor and some new friends and enemies for them. But Haruspex is very much a 'stand-alone' story, so if you have not dived into Transgressor, you can start with Trust A Few instead and hopefully enjoy the story just as much as someone who has.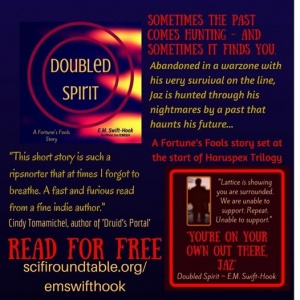 Give us a good one liner from your latest book