Druid's Portal: The First Journey is now live on Amazon and available for purchase. It already has one 5 star review!
If you click on this link it will take you to the Amazon store of your country click here
I would like to thank everyone that came along to the facebook launch this morning – lots of great guest authors in a lot of genres, free books, and a great chance to fill your kindle with some fine books. If you would like to check it out, the event will stay open for a while, click here
As many of you may be aware, I have been a long time fan of Robert E. Howard, the creator of Conan. The little town of Cross Plains, Texas has made a museum of his house, and hold a festival RE Howard Days each June. In honour of this, and as a thank you for inspiration and enjoyment, I am donating 10% of June book sales to the museum. So please feel feel free to forward this poster on, it will also be up on my facebook page
Druid's Portal: The First Journey
A portal closed for 2,000 years.
An ancient religion twisted by modern greed.
A love that crosses the centuries.
An ancient druid pendant shows archaeologist Janet visions of Roman soldier Trajan. The visions are of danger, death, and love – are they a promise or a curse?
Her fiancé Daman hurts and abandons her before the wedding, her beloved museum is ransacked, and a robed man vanishes before her eyes. Haunted by visions of a time she knows long gone, Janet teeters on the edge of a breakdown.
In the shadow of Hadrian's Wall and 2,000 years back in time, Janet's past and present collide. Daman has vowed to drive the invaders from the shores of Britain, and march his barbarian hordes to Rome. Trajan swears vengeance against the man who threatens both his loves – Janet and the Empire.
Time is running out – for everyone.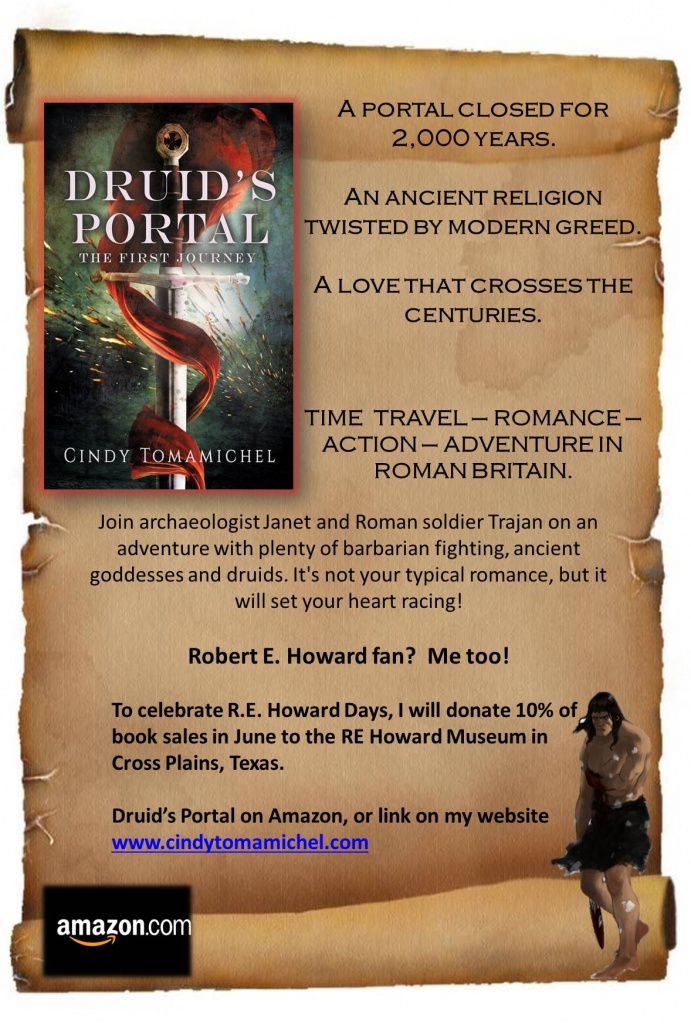 Enjoy this blog? Have a think about signing up via my website or catch them as they fly around the ether on twitter or facebook. They will stay where they are pinned on pinterest.
For those that have not read Druid's Portal yet, here is a link to the first chapter  DruidsPortal