Finishing a long project is always a momentous occasion whether it's a novel or it's a project of your own. The sense of accomplishment should not be under rated. From a reader's perspective, the ending of a novel can also be of interest. Certainly, it is another area to agonise over for the author.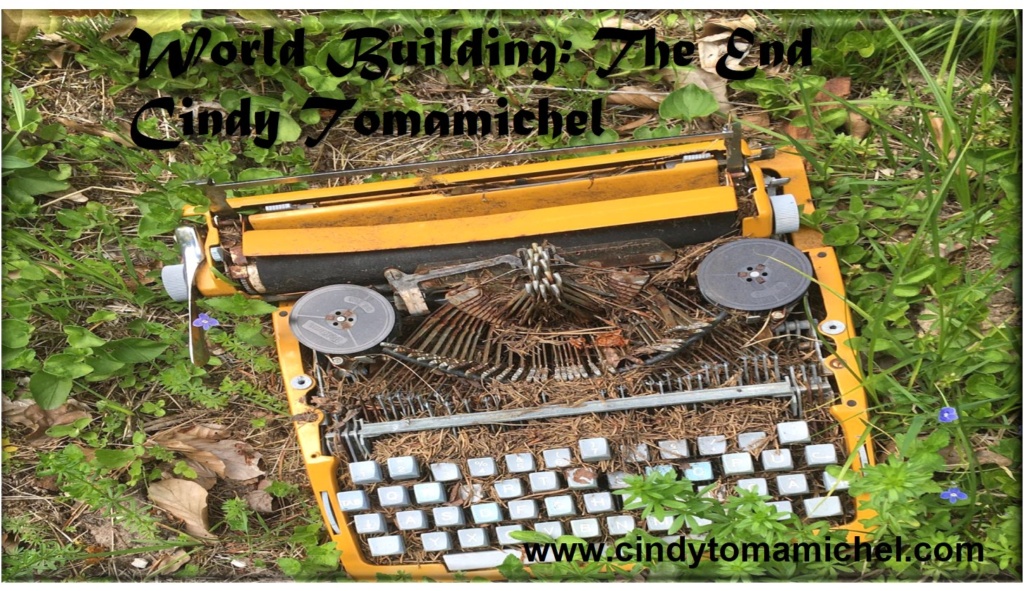 Writing "The End" is really just the start of a whole list of other jobs that need doing before the reader gets a book. What has ended is the fun, creative phase – which is why some novels probably never get finished. There are so many different things that need to be done to create the book that often the author can lose enthusiasm and energy. They might be dealing with creative burnout. Then there's several rounds of editing, and a cover to consider, crafting an enticing blurb, as well as marketing and really it never ends.
It becomes even more difficult with a series. An author has to (or probably should do) work out from the very beginning how each of the novels will end. Of course, some just wing it, but this can cause problems if they are publishing them as they go – what if you need to change something in book 1? Then the ending itself – a cliff hanger, or a smooth transition to the next? A cliffhanger is exciting, and theoretically should prompt a reader into purchasing the next book.  But then I've seen reviews that say they feel gypped because it ended on a cliffhanger and they don't like being forced to buy the next book. Either way you can't win.
Another way to finish off the book which is when an author kills off the main character. I am looking at you, Charles Dickens. It happened to me recently when I was reading a historical romance and it had the main character get nearly all the way through the novel and then she died of fever which is quite unusual for romance.
It can also happen that an author really dislikes his character. Arthur Conan Doyle was notorious for disliking his creation of Sherlock Holmes so much he pushed off the Reichenbach Falls. With the incentive of buckets of cash of waived under his nose he did resurrect him. However, there are there many that say that Holmes has never the same after that – and of course a character being written by reluctant author will reflect in the writing. Or if it is a long running series, perhaps the author farms it out to ghost writers. Leslie Charteris did this with his Saint series. I was thrilled to find out Harry Harrison wrote "Vendetta for the Saint' and did a good job. He also wrote the Stainless Steel Rat series, which I often thought was like The Saint in space/the future, so I do wonder which inspiration came first.
Of course a novel or series might not be finished for a number of reasons. An author may pass away unfortunately before the series is finished, such as the River of Time series. Or the author needs to do enormous amounts of research, such as the Clan of the Cave Bear series where she was researching for decades to write those books and finished the last one when she was well into her 80s or 90s. So you can imagine the enthusiasm for writing the last book must be quite low by the time you get to that stage. Then you have historical fiction writers who, because people now nitpick every single thing you write, spent hours researching a paragraph which might get reduced and edited into a sentence and sometimes not even used it all. The Thomas Covenant Unbeliever series is massive, and I read the author Stephen Donaldson was afraid to write the last book in case it did not live up to the rest of the series.
There are various reasons why it can be a long time before somebody gets to the end and then it gets out to the reading public and of course if it gets pirated they also never sees any profits. So readers are strongly advised not to pirate books if they'd like to see the author write more. Join a library if money is short, but most books are the price of a coffee. It's always very disappointing to see a book stagnate, as it affects the next book, and any small amount of money the author makes.
So while The End is not strictly part of world building, it is part of the world of the novel. Does the end have a long draw out phase of appendices or does it end abruptly? A happy ever after or is the last page the first part of a zombie apocalypse? The ending can affect the readers perception of the writer for long after the book has been forgotten.
Enjoy this blog? Have a think about signing up via my website or catch them as they fly around the ether on twitter or facebook. They will stay where they are pinned on pinterest.
My latest book, a contemporary romantic comedy is now out on Amazon- free on Kindle Unlimited! Rocky Road to Love tells the tale of two scientists falling in love in the Australian outback. There's geology, archaeology, dust, danger and the occasional possum! Link: Rocky Road to Love
For those that have not read Druid's Portal yet, here is a link to the first chapter of  DruidsPortal and to the second in the series Druid's Portal: The Second Journey, and you can read a preview here.
Scifi more your thing? Try my short stories in the anthologies Quantum Soul and Tales from Alternate Earths 2.
Or what about horror? Try Haunted, a free horror anthology.
Check out my post apocalypse story "After the End" in SlyverMoon Chronicles X or my haunting tale of a woman's life "Journey" in Queens of the Quill.
Doing NaNo this year or know someone that is? Grab a copy of my free guide "NaNoWriMo Ready."
My latest author help book "30 Organizing Tips for Writers" is now out and still free.
If you are keen to chat with other scifi peeps, then check out the Knights of the Scifi Roundtable facebook group and subscribe to their newsletter https://mailchi.mp/29fb30bca8e4/update-subscription
Short stories and poetry? Try my collections Tales of Imagination and Tales of Romance.
And my own author newsletter, for book news, odd facts, recipes and random freebies. Every subscription gets a free copy of my short stories 'New Beginnings' two tales of later in life romance Sign up here. Or prefer a scifi story instead? Sign up here.