How was 2018 for you? I hope it was a year when you got some things done, and enjoyed the process. I thought instead of more world building at a time of year when everyone is too inebriated/tired/shopped out, I'll just update on my writing. As a present for reading, I have attached a link to a short story – a fractured fairy tale. I asked myself what happens to Rapunzel if her Prince never finds her?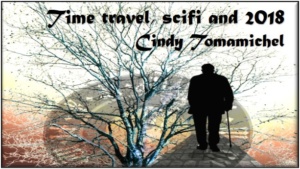 Time Travel Romance
Druid's Portal : The Second Journey will be published in May 2019. Follow the adventures of Ethan, the son of roman soldier Trajan and archaeologist Janet as he also faces his duties as guardian of the Arwen pendant. What happens if he doesn't believe in time travel?
I am currently writing the Third Journey, which promises to be a three book epic of the third generation to travel through time. No more spoilers – although in this one, mysteries from the first journey will be revealed!
I have also started a new series of short stories – Renaissance Faire. The stories are of women who travel in time to fulfill a secret wish. But with magic – sometimes you get what you need rather than what you want. I hope to self-publish this in the first half of 2019.
Science fiction
I have a short story in the anthology Tales from Alternate Earths 2. The collection has been popular, and I am very proud to be associated with some award winning authors.
I am also a member of an awesome Facebook group, Knights of the Scifi Roundtable. Check out their newsletter, and subscribe for news about new and free scifi and fantasy books and blogs. Click here.
Self Help
Five Minute Vacations was released this year – and is still an ideal Christmas present for people wanting a few moments of stress relief. Free review copies are available on Booksprout.
The Organised Author: I have a contract with Rhetoric Askew to publish a book which is designed to help beginner authors and writers establish their author platform. Associated with this will be an email course with additional material not in the book, and instructional videos. Stay tuned, but expect an April release!
Anyway, I hope you enjoy the story, and have a great time with loved ones over the holiday period.
Short story link: The Crone's Fairytale click here
Enjoy this blog? Have a think about signing up via my website or catch them as they fly around the ether on twitter or facebook. They will stay where they are pinned on pinterest.
For those that have not read Druid's Portal yet, here is a link to the first chapter  DruidsPortal
Scifi more your thing? Try my short stories in the anthologies Quantum Soul and Tales from Alternate Earths 2.
Short stories and poetry? Try the Rhetoric Askew anthologies: Mixed genre, Adventure or Romance 
Tired from all that thinking? Try a 5 Minute Vacation! 5 Minute Vacation 
Time travel, scifi and 2018