For this blog, I'll divert from world building and let you know a bit on progress of All The Things.
Bookbub Giveaway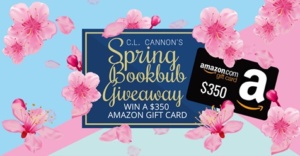 I have joined in a Bookbub giveaway. For those that have no idea about Bookbub, it is a site that advertises free and reduced books, and authors pay (quite a significant) sum to get their books showcased. So their newsletter is always full of bargain reads that support authors!
Anyway, the giveaway is the chance to win a $350(US) Amazon gift card. All you have to do is follow the authors on Bookbub. From this, you will get an email when they have a discount or free offer, or a new release. It's a great low fuss way to keep up with authors – and a chance to win $$. Good luck!
Multi Genre Readers Newsletter
I am a part of a new newsletter for readers that enjoy all sorts of genres. Each month, a variety of genre authors contribute an article that relates to their research. So far we have had articles on 3D house printing, food and drink in the 1700's, and an interpretation of the meaning of swords in fantasy.
Contributors include such fabulous authors as Assaph Mehr (ancient Rome fantasy), EM Swift-Hook (scifi and alternate history), Leo McBride (scifi, horror), Kat Caulberg (time travel romance), Heidi Hewett (scifi romance), Barbara Russell (steampunk), Brent A Harris (alternate history) and Mandy Melanson (publisher) and Moss Whelan (fantasy and podcaster).
Sign up gets you all this fascinating brain food, and a free story.
Druid's Portal: The Second Journey
A new journey for the family of Trajan and Janet! Due out May 22nd. I shall be offering a freebie when it is up for pre order – an insight into the world of Druid's Portal, with all sorts of interesting bits of history. In the meantime, click here to view the video trailer.
.
What happens when the past is ruled by a man who knows the future?
A time that should not exist.
A love that can never be.
Ethan finds his heritage of time travel a burden he can scarcely endure. Rowena is in an parallel timeline, forced to perform acts that haunt her.
30 days to stop an ancient Goddess taking Rowena's body. 30 days to save his timeline. Together they will fight their way through an altered history to the dark past of Stonehenge.
But time is running out – for everyone.
Back to world building next month!
Cindy Tomamichel
Enjoy this blog? Feel free to forward it to ALL your friends! Have a think about signing up via my website or catch them as they fly around the ether on twitter or facebook. They will stay where they are pinned on pinterest.
For those that have not read Druid's Portal yet, here is a link to the first chapter  DruidsPortal
Scifi more your thing? Try my short stories in the anthologies Quantum Soul and Tales from Alternate Earths 2.
If you are keen to chat with other scifi peeps, then check out the Knights of the Scifi Roundtable facebook group and subscribe to their newsletter https://mailchi.mp/29fb30bca8e4/update-subscription
Short stories and poetry? Try the Rhetoric Askew anthologies: Mixed genre, Adventure or Romance 
Tired from all that thinking? Try a 5 Minute Vacation! 5 Minute Vacation