Today I introduce L.S. Young, a historical romance writer and author of the book "A Woman so Bold".
What is your current project?
Right now I have one novel my agent is querying with publishers and another one I just started working on. The novel I'm querying is a western romance entitled Montana Burning.
What are the hardest and easiest aspects of writing for you?
The easiest part is coming up with ideas for stories, the hardest part is executing them. I didn't used to have any problem sitting down to write, it was like a compulsion! I've always thought the best and simplest writing advice is to write every day, but that doesn't always happen. My two year old loves to turn off my laptop monitor when she wants my attention.
If you could go anywhere for your next holiday, where would it be and why?
I've always wanted to visit the UK and New Zealand. They're so beautiful and the landscapes and climates are so different from where I grew up in the U.S.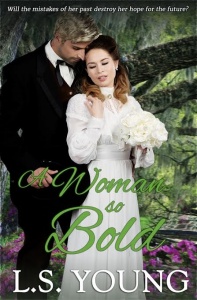 What has been the most surprising thing you have discovered since being a published author?
It's surprising how much of a learning process it is. There are a lot of hurdles and there always seem to be new things to learn on the journey.
Your current book is a historical romance. What sort of research do you do for this genre?
Well, you have to research so many different aspects of historical. Clothing style, social conventions, language (regional and the time period), and what was going on at that period in history. Obviously there are tons of resources on the web, but I also enjoy going to museums and historical sites. For my first novel it was helpful that I knew a lot of the local history, but two things I did for reasearch were visit an old one room schoolhouse from the 1800s and spend a day walking around Monticello, Florida.
The book I'm writing now is historical fantasy romance and it's about a place I know next to nothing about, so the volume of research has been a lot more daunting, since I have both world-building and foreign language to navigate. It has been interesting though! I love learning new things.
Who is your favourite hero and why?
I love Fitzwilliam Darcy. He's just timeless. A wealthy, well-dressed, virile, handsome, and good-hearted man never goes out of style, even if he is unsociable and taciturn. Something about his unapproachable nature makes him even more desirable.  I've also had a thing for Rhett Butler since I was thirteen. He's a bad guy, a villain in some ways (Jane Austen certainly would not approve of him!) but he's also sexy and honest about his vices.
If you travelled in time, when would be your choice? Would you prefer magical or technological means of travel?
 This is tough! I feel like every time period would have its own challenges and dangers. For beautiful fashion I'd go to the Gilded Age or the Edwardian era. I've always been interested in Regency England and the American Revolutionary War, and the 1950s (although I don't buy into the idea that it was an idyllic time) but I think I'd avoid any other major wars or times when it was common to be accused of heresy or tried as a witch. As for travel, magic appeals to me more, but technological seems like a more reliable method of return.
Do you belong to any groups that you find helpful?
I'm a member of the Historical Novel Society and I met one of my most helpful critique partners through that. I've also found the beta reader group I'm a member of on Goodreads to be a good resource.
What is the next project?
I'm working on a historical fantasy romance in the new adult genre. It's set in Iceland in the 17th century and is about a peasant's daughter who falls in love with a wand woman. There's a lot more magic in it than my other books, and magical creatures, like a Huldra (Nordic forest spirit).
People want to know more! Where can we buy the latest book and where are you on the internet?
Buy links:
Author Links
Thank you Lauri for your thoughtful answers.
Enjoy this blog? Have a think about signing up via my website or catch them as they fly around the ether on twitter or facebook. They will stay where they are pinned on pinterest.
For those that have not read Druid's Portal yet, here is a link to the first chapter DruidsPortal
L.S. Young: author interview