For everyone that prefers the feel of a real book in their hands – Druid's Portal will be out in paperback on Sept 30th. You can pre order now as well – just click on the picture.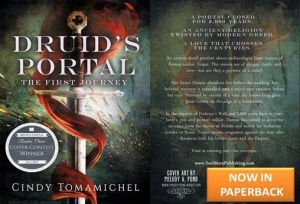 Someone asked lately what was my definition of success as an author. For someone that has spent many hours searching out old books in dusty boxes and shelves in second hand shops across the globe, I didn't have to think too hard about my answer. To find my book, dusty, tattered and the spine broken from reading, nestled along side such personal heroes of the page such as ER Burroughs, Tolkien, RE Howard would be my definition of success.
For readers in the USA that go to Comic cons, it will also be available at the SciFi Roundtable Knights table at
Tuscon Comic Con Nov 3-5th 2017
Albuquerque Comic Con Jan 12-14th 2018
Phoenix Scifi/Fantasy Con Mar 16-18th 2018.
Be sure to check out the table, I am proud to be sharing space with some great authors of scifi and fantasy.
I also made up a book trailer, you can most easily view it on my amazon author page here
Thanks to any that have read it as an ebook. I would appreciate a review if you get the chance just click here
Enjoy this blog? Have a think about signing up via my website or catch them as they fly around the ether on twitter or facebook. They will stay where they are pinned on pinterest.
In the meantime, click and have a read of Druid's Portal
Druid's Portal – paperback