Today I introduce Samanthya Wyatt a fellow Soul mate author in contemporary and historical romance and author of the upcoming book "Instant Enticement" available for pre-order now.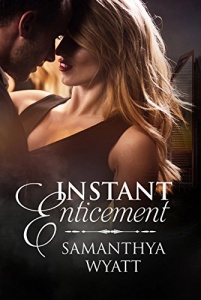 What is your current project?
Instant Enticement
A naked woman in the shower . . .
Craig couldn't believe his eyes. A practical joke on his friend turned out to be a naked beauty standing before him in all her fine glory. He was too shocked for words. A man who had his share of women, suddenly found himself speechless before this exotic creature. She was an aching temptation. Surrendering to his passion could cost him his best friend. Yet, he yearned to taste, to touch . . . but she was hands off.
Kelly has given upon men. Once she'd been young, beautiful, full of life, and way too trusting. But her last relationship changed all that. All men were liars—except for her best friend. The only man she would ever trust. At least that's what she thought . . . until she met his best friend, Craig. He turned her world upside down and had her rethinking her vow. She yearns to taste the ecstasy his dark eyes promise. But he holds back. And now she must convince him she is innocent of betrayal.
A writing routine or inspiration? What works best for you?
Inspiration. A routine has never worked for me. When I plan hours of quiet time or writing time, something always happens. My family thinks I do nothing, and have plenty of time for them. Between doctor appointments for my mom and my uncle, I have very little time left for me. So when I get a chance, hubby tells me to close the door and he will see I have privacy. What a man…
Who are your favorite fictional couple and why?
Every book I write, the current H&H is my favorite couple. But if I had to choose, I'd say my first book because Morgan and Kat were in my head for fourteen years before "The Right One" was published.  If you mean favorite couple ever—Rhett and Scarlett in Gone With the Wind.
What has been the most surprising thing you have discovered since being a published author?
That I have joined the ranks of published authors. I may not be popular, but I became published the old-fashioned way by submitting my MS and signing a contract with a publisher. It has been a real thrill going to RWA conferences and meeting my favorite authors.
You write in Contemporary Romance. Do you stray into other genres?
My latest book is contemporary, but I also write historical in Regency time period. I love suspense and add some mystery to my books.
Is there a book you would recommend writers should read?
All of mine of course. LOL  On a more serious note, there are tons of books covering every subject on the earth. I love romance in every time period and I love the magical moments. Whatever your choice, read a book. 'Lay the worries of the world off your shoulders and get lost in the pages of a romance.'
If you travelled in time, when would be your choice? Would you prefer magical or technological means of travel?
If I were to travel in time, magical would be my choice. I'd like to go back in time. Maybe in the days of pirates. Maybe in England, going to balls, meeting a handsome Lord. Or even a handsome Medieval Knight with his sword.
Do you have a marketing tip you can share?
Facebook seems to be the social media for most everything. My advice, friends and other authors is the key. If an author is willing to share your news, be polite, gracious and return the favor.
I have found, much to my dismay, there are authors who push their books and use groups and teams to promote them like a business. Maybe this is a business, but authors who use fans to market like a pushy car salesman or encyclopedia salesman is not an author for me.
I feel that if you write, keep on writing. Enjoy what you do and maybe one day your book will be among the best sellers. We can always hope.
What is the next project?
My current work in progress is a series "The Firefighters of Station #8".
Each book is focused on a different firefighter showing how the hero and heroine overcome their inner conflict to achieve love. I have sprinkled in a villain—one man's revenge apportioned over 5 books.
Mike is the first book of five.  A profession that has made him a confirmed bachelor – A teacher who spends her nights dreaming of Mr. Right – each is afraid to surrender to love. A thirst for vengeance threatens the Firefighters of Station #8 placing Mike and Cassie directly in the line of fire.
 People want to know more! Where can we buy the latest book and where are you on the internet?
BUY LINK for Instant Enticement: https://www.amazon.com/dp/B07663KV3S/
Website:   http://samanthyawyatt.com/
Facebook:  https://www.facebook.com/Samanthya-Wyatt-Author-1498001047086140/?ref=hl
Twitter: @samanthyawyatt
Blog:  http://samanthyawyatt.com/blog/
SMP:  https://smpauthors.wordpress.com/
Review Site: https://www.nightowlreviews.com/v5/Reviews/Lwynters-reviews-The-Right-One-by-Samanthya-Wyatt
Goodreads: http://www.goodreads.com/author/show/8330687.Samanthya_Wyatt
All books available at  Amazon.com https://www.amazon.com/Samanthya-Wyatt/e/B00L3KIZTO/
Enjoy this blog? Have a think about signing up via my website or catch them as they fly around the ether on twitter or facebook. They will stay where they are pinned on pinterest.
In the meantime, click and have a read of Druid's Portal
Samanthya Wyatt: author interview