Today I introduce Linda O'Connor, a romance writer and author of the upcoming novella "Perfectly Crazy in Love".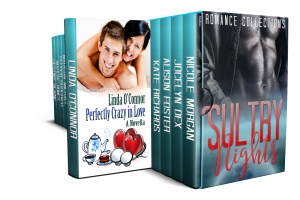 What is your current project?
I've written six books in the Perfectly Series and the sixth one was going to be the final one, BUT haha, I've joined a group of 22 authors to create a boxed set, Sultry Nights, due out on November 7. My story is a novella called Perfectly Crazy in Love. Here's a little about it :
Dr. Patty Kelt is trying to get Dr. Ken Marshall's attention. They've been friends for four years, and it's time to turn it up a notch. She wants him to see her as smart, competent, strong, and sexy. So far she's just managed crazy. Ken's used to solving problems and giving advice. Crazy he could handle. But dealing with crazy in love? That's entirely new.
Perfectly Crazy in Love…it's not as easy as it looks.
Plotter or pantser? How do your novels come together?
I always start knowing the beginning, middle, and end of the story, but I work best if I panster for the first six chapters and then outline a rough plot after that.
What's the craziest thing you have googled in the name of research?
Grammar tips like how to use a comma. 😀
What has been the most surprising thing you have discovered since being a published author?
I wrote Perfectly Honest, and I hadn't realized how Canadian I was (with a British writing style) until I entered the manuscript into one of the RWA chapter contests in the United States. The main character, Mikaela, was tired at the end of a long day and agreed to do a favor for a friend, so she stopped on her way home for a double double. Two of the contest judges commented that they had no idea what that was. What?? Canadian babies' first words are momma, dada and double double. How could you not know what that was? Haha. It's a coffee – two creams, two sugars. Plus, Mikaela routinely went to the drive thru at Tim Horton's (our most popular, one-on-every-corner, don't drive anywhere until you've stopped there first, coffee and donut shop) to pick up the double double. One judge wrote, "Who is this Tim Horton? Need to develop his character." I was going to write back that he's a relative of Dunkin'! So I realized that there were a few things I had to keep in mind when I was writing for an American audience (and an American publisher).
Tell us about a life experience that ended up in your fiction work.
My medical career influences my writing. I talk to people for a living, so I feel I have an easier time writing engaging dialogue and adding depth to my characters. Delivering a baby (well I've delivered a few, but delivering my nephew when I didn't expect to) crept into my writing. The other scene that was influenced by a real life experience is in Perfectly Honest when Mikaela's specialty eclipses Sam's. My husband is a surgeon, and his specialty often garners more interest than mine when we meet someone new. Except once. One day, in the midst of a family doctor shortage, we were at the bank and the two women helping us were so excited that I was a family doctor that my husband's specialty never came up. I had to chuckle when he mentioned that he'd noticed.
How do you come up with the names for your characters?
I can't start writing the story until I've nailed down the characters' names. Male names are the hardest. I have 3 sons, and they have a lot of male friends. I don't like to use the name of someone I've met – kind of like choosing a name for a baby! I Google names and look at newspaper articles or team lists for ideas.
If you travelled in time, when would be your choice? Would you prefer magical or technological means of travel?
I'd like to teleport into the future. It'd be fun to see what's in store!
What's the scariest thing you have ever done, and did it end up in a story?
I'd have to say the scariest thing I've ever done was…deliver my nephew. At the time, I was an intern in my final year of medical training, and I'd had a few deliveries under my belt. But, you know, when you're the aunt, in the delivery room for moral support, and the obstetrician is running a little late, and the baby is in a rush to make an appearance, all the warnings about what could go wrong, how you'd never forgive yourself if something went horribly awry, if you made a mistake … well, they just vanish like a popped balloon, and you step up to the plate. Now, apparently I commented that it was a tad messy and it'd be a shame to ruin my shoes, but frankly, I don't remember that part. Heart racing, sweaty brow, nausea in the pit of my stomach – that I remember. But when that slippery, little, adorable bundle slid into my waiting hands, the terror was replaced with joy. Today, that little baby is a kind, witty, wonderful adult, and for that, I'm taking credit. After all, they say it's all in the delivery. 😀
What is the next project?
My next project is a hockey romance series called In the Game Hockey Series. I plan to release the four stories early in 2018. Can't wait to share it with you!
People want to know more! Where can we buy the latest book and where are you on the internet?
I hang out at www.lindaoconnor.net (net as in networking :D)
Website   |   Facebook   |   Twitter   |   Amazon Author Page   |   Newsletter
Linda O'Connor: author interview