Today I introduce Susan B James, a fellow Soul Mate author, and talk about her contemporary time travel novel – the recently released Maybe This Time.
What is your current project?
Blurb for "Maybe this Time"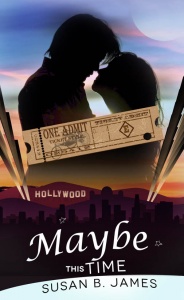 Their Happy Ever After is over before it begins unless they can change time.
 London 2001
Popular stage actress Jennifer Knight just turned forty-nine and she's fine with her life, thank you very much.
Or she was until her beloved niece accidentally time travels them both to 1988 bringing her face to face with her first husband.
Computer guru, Lance Davies is more comfortable with machines than people. He never knew how to handle his beloved, mercurial Jen. But now her future self is here in front of him and he wants another chance.
Jen's traitorous body insists that home is in Lance's arms, but her heart has trust issues.
When Lance follows Jen into the future, time tangles. According to the computer they both died.
Their hope of a future together is over unless her genius brother can help them change time.
https://www.amazon.com/dp/B073DJ2RK4/
What do you like to read, and has this changed over time?
You are speaking to a confirmed bookaholic. I read Romance – contemporary and regency and romantic suspense. I prefer them seasoned with humor. I also read fantasy, magic realism, sci-fi, mystery, YA, Children's mid-grade novels, Children's picture books. When I don't have a book handy, I read signs and cereal boxes and peer over people's shoulders to see what they are reading.
What's the craziest thing you have googled in the name of research?
That's a hard one. I spend a lot of time on Google. Naturally I have done a lot of time travel research. I guess I would have to say Leprechaun reproduction. I didn't find anything. There is very little on the internet about Leprechauns, which left me free to make my own legends.
What has been the most surprising thing you have discovered since being a published author?
I'm not sure. It feels like a very happy thing to be. I think I was surprised to find out how much work it is to publicise a book and to get reviews.
Tell us about a life experience that ended up in your fiction work.
In "Maybe This Time" Jennifer Knight is an actress. So am I. I drew on my experience working on Broadway to describe the backstage area. In Time and Forever, Sherry kissed a stranger on a London Tube. I once kissed a stranger on a New York subway. It was a magical experience I never forgot.
What's your favourite imaginary world that's not your own?
NOOOOOO! Don't ask me that. Jayne Castle's Harmony world. Anne McCaffrey's Dragon World. Tamora Pierce's Tortall. JD Robb's futuristic New York.  Jude Deveraux's Montgomery family. This could go on a long time.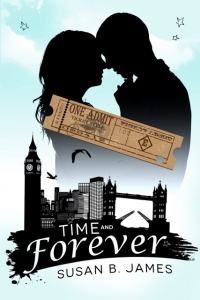 If you travelled in time, when would be your choice? Would you prefer magical or technological means of travel?
Well, my first two books –Time and Forever and Maybe This Time use a twist on enhanced virtual reality. It's kind of techy and magic at the same time. Lord Bryon's Daughter involves using an ancient spell. It's a kind of magic and techy. I love combining the two.
If you were stuck on a desert island for eternity and could only take one book, what would it be?
Bookaholic, remember? One book would be my personal hell. How about the collected works of L.M. Montgomery (Anne of Green Gables) and Susan Elizabeth Phillips (romantic comedy) in one volume.
What is the next project?
As soon as I finish up Kate's Hero. (Set in Ireland. 2 stubborn people. An elderly matchmaker and a leprechaun with a mission. What could possibly go wrong?) I will start the second Draft of Lord Bryon's Daughter. (Victorian heroine – Ada Lovelace, Lord Byron's daughter, time travelling to Wartime Britain in 1941)
People want to know more! Where can we buy the latest book and where are you on the internet?
Time and Forever is available as an eBook, audiobook, and paperback. https://www.amazon.com/dp/B00I3PFF40/
Maybe This Time is currently an eBook. The paperback is available now for pre-order. https://www.amazon.com/Maybe-This-Time-Susan-James/dp/1682914941
The audiobook will come out in December.
Links:
Writing: www.susanbjames.blogspot.com
Twitter: @susanjberger
Facebook Author page https://www.facebook.com/SusanJames/
Instagram: https://www.instagram.com/bergersusanjames/
Goodreads: https://www.goodreads.com/author/show/7791397.Susan_B_James
https://www.goodreads.com/author/show/3027649.Susan_J_Berger
Acting: www.SusanBergerActor.com
Enjoy this blog? Have a think about signing up via my website or catch them as they fly around the ether on twitter or facebook. They will stay where they are pinned on pinterest.
In the meantime, click and have a read of Druid's Portal
Susan B. James: author interview