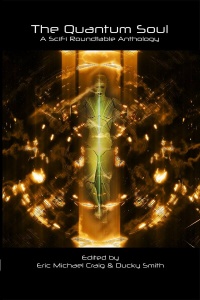 The world of science fiction is waiting with bated breath as tomorrow sixteen authors reveal their answers to the question – What is Life?
This anthology is a collection of indie and hybrid (self/traditional) authors.
Click on the picture to buy!
There is a facebook launch event on Oct 19 for it – click on this link to tell us you are interested!
Lots of fun chat, competitions and some great new authors to find – hope to see you there.
Here is a sneak peak at the contents:
By Design by Alan Van Meter
What Measure is a Homunculus? by Ricardo Victoria
New Year by GD Deckard
The Machine in the Mountain by Darran Handshaw
Aether Technician by Jim Webster
When Words are not Enough by Cindy Tomamichel
Soul Mates by Victor Acquista
The Endymion Device by Lyra Shanti
Patient Data by Claire Buss
The Trees of Trappist by Brent A. Harris
Pixels by Greg Krojac
Wondrous Strange by E.M. Swift-Hook
The Dream Miner's Drill by CB Droege
Project Chameleon by Jeanette O'Hagan
Second Contact by Leo McBride
Shepherd of Memory by Rob Edwards
And edited by the talented Eric Michael Craig.
The links take you to their Amazon pages where you can seee what else they write. Remember – Christmas is coming, and there is no finer or more welcome present than a good book!
Enjoy this blog? Have a think about signing up via my website or catch them as they fly around the ether on twitter or facebook. They will stay where they are pinned on pinterest.
In the meantime, click and have a read of Druid's Portal
New Scifi Anthology: Quantum Soul