I have Kim Hotzen on the blog today, a fellow Soul Mate author and she has been kind enough to share a little about her upcoming book "Concealed Love" and "Time for Love in Paris" which was a RONE finalist as well as a fantastic giveaway! To win an ebook of "A Time for Love in Paris" comment below!
Concealed Love (to be released in November)
Brooke Anderson dreams of escaping her troubled past and starting her own business as an event planner. When she crosses paths with her childhood sweetheart, Adam, she falls hard for him and their relationship promises to be her salvation.
But Brooke's ex-boyfriend, Carlos, is a vengeful drug dealer, who will not let go of her easily. As Brooke struggles to free herself from his control, an earthquake rattles the city of San Francisco, threatening to bury Brooke and her chance of love in the rubble.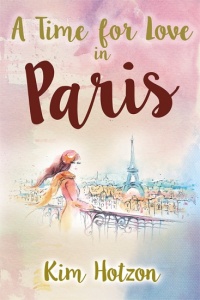 A Time for Love in Paris
In 1975, Elise Sutherland, a young woman from Scotland, travels to Paris, France, to study art at the illustrious Fine Arts School of Paris. Stumbling upon a mysterious, old book in the infamous Shakespeare & Company bookstore, her world opens up an undiscovered realm. Elise finds Paris at the turn of the century a very different place, succumbing to the charms of Michel Flaubert, a masterful painter and sculptor. Acting as Michel's muse, Elise shares his passion for art and  architecture. When their love deepens beyond infatuation, Elise and Michel struggle with the impossible boundaries of their relationship and they are threatened by the presence of Michel's friend, Henri, whose jealousy will have long-lasting consequences. When Michel departs on a visit to Lyon, Elise believes it is forever. She returns to her modern life, where she lives for decades as a solitary woman in France.
Michel Flaubert is a successful painter in 1895 Paris. As his career takes off, he discovers an unusual woman lurking inside his studio. Perplexed by her manner, Michel finds her beauty breathtaking and he endeavours to paint her. There is simply no other woman in Paris like Elise. Though puzzled by her frequent disappearances, he embarks on a love affair with her that turns into true love. When Michel returns from a brief absence, he discovers that Elise has vanished without a trace.
In 2015, when the Louvre museum houses a temporary exhibition of Impressionistic art, Elise spots a statue crafted in her likeness. Only one man's hands had the ability to create such a masterpiece—Michel Flaubert. Elise must decide if she is willing to travel back one last time in the hopes of locating her long lost lover. But first she must unearth the book. Will she find it? If she succeeds, Elise realizes that returning this time will bring her into a dangerous period with Europe on the brink of  World War II. If she goes, will she find Michel in time? Will she have one more opportunity to experience lasting love, before it's too late?
Excerpt:
Seeing it now, existing in the permanence of marble, pierced Elise's thickly preserved armor. Her lover, the painter, promised an everlasting symbol of his love for her but she hadn't had the chance to see it finished. She hadn't forgotten his hands and the trembling vibration they caused as they connected with her naked skin. Her meticulous lover had demanded endless days of posing, sketching, and sculpting while their love had been born.
There had also been light. Indoor and outdoor light, morning light and candlelight. Sketching, en plein air. Halos of soft light shining from the glow of candles onto their nude bodies. He had loved her, after all.
Burning liquid filled Elise's eyes as she relived the pain of losing him. Like reopening an old wound, the scar tissue was peeled back, exposing the inner flesh inside. Her wound had been severe, bleeding and festering for decades. Elise hadn't wanted this pain to consume her. She'd strived to forget him over the years. The shock of seeing the statue sent her tail-spinning into remorse and doubt. Did I make the right choice? Did I?
"Oh my . . . How?"
Her voice broke, barely a whisper. Snippets of memories and submerged bits flooded back. The proof of their love sat mere inches away from her, both frightening and exciting. Blinking, Elise released her hands from her throat, sliding them over her chest, settling on the slight hardening in her abdomen.
She pictured herself as the winsome young woman she once was. On the brink of adult life, with the world in front of her. Men who stopped as she passed by, whistling and admiring her femininity and natural allure.
She'd been sought after by a man who'd turned his studio upside down for her. His passion and his inspiration being her and her alone. Wonderful days filled with music, laughter, and the promise of romance.
And then, her lover had disappeared.
So – to win a copy of this – please comment below. Thanks Kim!
Chase Kim around the internet:
Website: http://www.kimhotzon.com/
Facebook: https://www.facebook.com/pages/Kim-Hotzon-Author/985072381510874
Twitter: https://twitter.com/KimHotzon
Pinterest: http://www.pinterest.com/kimhotzon/hands-full-of-ashes/
Goodreads: http://www.goodreads.com/author/show/6491250.Kim_Hotzon
Amazon author page: https://www.amazon.com/Kim-Hotzon/e/B008JFTZV8/
Enjoy this blog? Have a think about signing up via my website or catch them as they fly around the ether on twitter or facebook. They will stay where they are pinned on pinterest.
In the meantime, click and have a read of Druid's Portal
Kim Hotzen: author interview